Thailand – Vietnam – Cambodia Golfing Holiday
Muli-Centre Asian golfing holiday in paradise.
Package Includes:
• Flying with BA and Vietnam Airlines departing Heathrow
• Private transfers from the airport to the hotels return
• Anantara Riverside Resort & Spa – 4 nights with breakfast
• Hotel Majestic Saigon – 5 nights with breakfast
• Sokha Angkor Hotel & Spa – 4 nights with breakfast.
• 4 privately guided English speaking tours.
• 6 rounds of golf
• Contact us for other departure dates
Day 1– Depart the UK
Day 2 – Arrive at Bangkok airport and meet with your driver and transfer to your hotel
Check-in at Anantara Riverside Resort & Spa
Day 3 – After breakfast you will be collected from Anantara Riverside Resort & Spa and taken by a private transfer to Thai Country Club golf course to play 18-holes. Afternoon at leisure.
Day 4 – After breakfast you will be collected from Anantara Riverside Resort & Spa and taken by a private transfer to Alpin Golf & Country Club golf course to play 18-holes. Afternoon at leisure.
Day 5 – After breakfast you will be met by an English speaking tour guide for a private half day Best of Bangkok Tour (excl. lunch)
Cruise in a long-tail motor boat: along the Chao Phraya River and canals in Thonburi area. You will be treated to spectacular and colourful scenery of Thai life along the river banks. The Bangkok people still depend on the waterways to transport their merchandise.
Wat Pra Kaew or The Emerald Buddha: a must for anyone visiting Thailand's capital city. Built in traditional Thai architecture mixed with European designs, The Grand Palace complex, once the official home for the Kings of Siam, is unquestionably one of the Thailand's major tourist highlights. During the tour you will visit the Royal Funeral Hall and the Royal Coronation Hall. Grand Palace: has an area of 218,400 sq. metres and is surrounded by walls built in 1782. The length of the four walls is 1,900 metres. Within these walls are situated government offices and the Chapel Royal of the Emerald Buddha besides the royal residences.
After the tour, you will be transferred to your hotel
Day 6 – After breakfast check out of your hotel and transfer to Bangkok airport for your flight to Saigon. You will be collect at Saigon airport and transferred to The Hotel Majestic Saigon. Enjoy the rest of this day at leisure.
Day 7 –  After breakfast you will be met by an English speaking guide at your hotel for a private full day Best of Saigon Tour (incl. lunch)
"Saigon, with more than 8 million inhabitants, is the country's commercial centre. Despite the well-documented hustle and bustle, the city retains its connections to the past. Embark on a city tour to admire Saigon's historic landmarks including the Notre Dame Cathedral, a stunningly massive red-brick edifice with twin spires, a clear reminder that French once ruled this city (open only 3-4pm everyday otherwise just outside visit); the Central Post Office influenced by Renaissance architecture; and the former Presidential Palace, headquarters of the Saigon Government during the American war; the War Remnant Museum to have a deeper understanding of Vietnam history. Then, drive 6km to China Town to visit Binh Tay Market and Thien Hau temple built by the Cantonese congregation in the early 19th century. It is to honour the goddess of the sea and protector of fishermen. The temple's interior courtyard is worth seeing with beautiful ceramic figurines and antiques shrouded in incense-smoke. It is always bustling here with worshippers from the local Chinese community; Chance to write out your wishes on a small red note, stick it on an incense coil and pray for your wishes come true"
After the tour you will be transferred back to your hotel.
Day 8 –  After breakfast you will be transferred to play 18-holes at Vietnam Golf & Country Club – Afternoon at leisure.
Day 9 –  After breakfast you will be transferred to play 18-holes at Long Thanh Golf Club -Afternoon at leisure.
Day 10 – After breakfast you will be met by your English speaking tour guide for a private full day Mekong Delta Tour (incl. lunch)
"Get on 2-hour drive to a lush green area in the middle of the Mekong Delta called Ben Tre. Stop en route to visit Vinh Trang pagoda, an ancient southern architectural gem. Built in 1849, the structure is a mixture of Asian and European architecture including elements from the Renaissance period, Romanesque style, French decorative flowers and Japanese enamelled tile. Upon arrival in My Tho jetty, get on local motorized boat trip to Ben Tre, visit a small coconut-candy workshop, just to get a glimpse of typical family run business in this area. Another 30min bobbing on the waves brings you to deeper parts of agriculture life. Disembark your boat, walk around sleepy villages and picturesque orchards until you reach Vuon Dau rest stop, sample freshly picked fruit at the invitation of friendly local farmers. Savour tasty lunch at local restaurant then enjoy a fun rowing boat in the shadows of water-coconut palms along idyllic tiny canals"
After the tour, you will be transferred back to your hotel.
Day 11 –  Transfer to Saigon Airport for your flight to Siem Reap.
You will be collected at Siem Reap and transferred to The Sokha Angkor Resort where you can enjoy the rest of your day at leisure.
Day 12 –  After breakfast you will be transferred to play 18-holes at Siem Reap Booyoung Golf Resort
Spend your afternoon at leisure.
Day 13 –  After breakfast Private Full Day Angkor Temples (incl. lunch)
Meet with English speaking guide in the hotel lobby for today's sightseeing:
"Today we visit some of the most beautiful temples on the small circuit, including the huge pyramid of Takeo, built in the 10th century and continue to jungle-clad Ta Prohm a monastery built by Jayavarman VII as a residence for his mother. Next, we visit the sites of Angkor Thom, the Royal city that was built in the 11th Century. It was destroyed when the Chams from Vietnam rose up against the Khmers and invaded, sacking the city, and was subsequently renovated by King Jayavarman VII at the end of the 12th Century. Its vast walls, some 6m wide, 8m high and 13km in length contain many monuments. We begin by visiting the South Gate, flanked by demons and gods engaged in a tug of war to obtain the elixir of immortality. We continue to the Bayon, a temple mountain built by Jayavarman VII. It is situated in the centre of the city of Angkor Thom. It is a three-tiered pyramid with its entrance facing east. The central shrine is surrounded by 54 towers all crowned by gigantic faces, representing Avalokiteshvara but with the features of Jayavarman VII. We also visit other important sites in this immense walled city, including the pyramid of Baphuon, Phimean Akas, and the royal viewing stands known as the Terrace of the Elephants and the Terrace of the Leper King. Lunch is served at local restaurant. In the afternoon, we explore Angkor Wat the largest religious buildings ever constructed. It is truly one of the wonders of the world. Believed to have been undertaken as a temple and mausoleum for King Suryavarman II at the peak of the Khmer empire in the first half of the 12th century, Angkor Wat is the best-preserved of the Angkorian temples"
After the tour, return transfer to hotel
Note: Order of places to visit is subject to change as seen fit by tour guide without prior notice.
Day 14 – After breakfast transfer to play 18-holes at Angkor Golf Resort –
Afternoon at leisure.
Day 15 – Private transfer to Siem Reap for your flight home to the UK.
Anantara Riverside Resort
Revel in the beating heart of Asia in a graceful Bangkok resort on the west bank of the Chao Phraya River. The Anantara Riverside Resort has everything you need to enjoy your golf holiday to Thailand. Thai-inspired rooms provide urban serenity with views of the twinkling city skyline.
Hop on the complimentary shuttle boat to connect to the charms of the city. Gaze across the endless gardens to the River of Kings. Go behind the scenes to uncover the real Bangkok with the hotel Streetwise Guru. Glimpse the hidden life along leafy canals with the Klong Guru.
Theatrical culinary displays and cultural entertainment offer a rich immersion in this fascinating culture. Riverside serenity and modern convenience unfold at Anantara Riverside.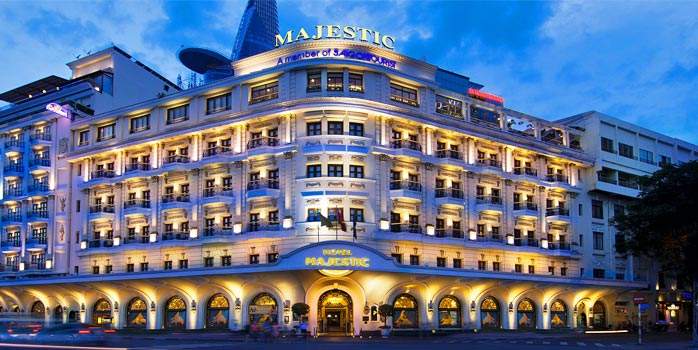 Since 1925, situated on the strategic location of Ho Chi Minh City with the stunning views of the Saigon River, the 5-star luxury heritage Hotel Majestic Saigon has been one of the best city's landmarks. On the picturesque riverside corner of Dong Khoi and Ton Duc Thang street, Hotel Majestic Saigon has remained faithfully to the original architecture and interior design.
The 5-star Hotel Majestic Saigon harmonizes a unique heritage concept with luxurious accommodation, fine dining restaurants, high-class facilities and legendary service. The Majestic Saigon provides the perfect companion to your stay in downtown of Saigon, either for a business meeting, a magical holiday, or a golf vacation.
During your stay, you can visit some of the city's famous landmarks just a few minutes away from our doorstep. For a change of pace, take some city sightseeing tour or join in seasonal events that surely will make the most of journey.
The Sokha Angkor Hotel & Spa is one of the most eminent hotels in Siem Reap and is situated between Angkor Wat and downtown Siem Reap. The hotel is strategically positioned and it is a perfect base for golf holidays in Cambodia.
The waterfall at the swimming pool is a centrepiece of the resort and this is the only Cambodian hotel with a saltwater swimming pool. Furthermore, there is a large selection of dining options including an authentic Irish pub to settle up after a long round of golf, considered the best in Siem Reap.
Melia Grand Hermitage
Bulgaria, Europe
Some oTher Hotel
With Hotel Info
Thailand – Vietnam – Cambodia Golfing Holiday Enquiry