Majestic Saigon Hotel
Since 1925, situated on the strategic location of Ho Chi Minh City with the stunning views of the Saigon River, the 5-star luxury heritage Hotel Majestic Saigon has been one of the best city's landmarks. On the picturesque riverside corner of Dong Khoi and Ton Duc Thang street, Hotel Majestic Saigon has remained faithfully to the original architecture and interior design.
The 5-star Hotel Majestic Saigon harmonizes a unique heritage concept with luxurious accommodation, fine dining restaurants, high-class facilities and legendary service. The Majestic Saigon provides the perfect companion to your stay in downtown of Saigon, either for a business meeting, a magical holiday, or a golf vacation.
During your stay, you can visit some of the city's famous landmarks just a few minutes away from our doorstep. For a change of pace, take some city sightseeing tour or join in seasonal events that surely will make the most of journey.
Send an enquiry Tell us your travel plans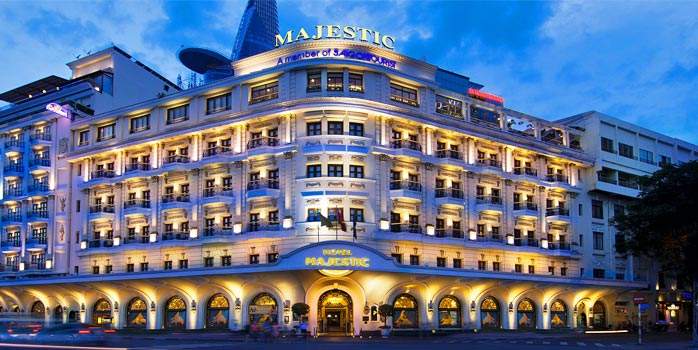 Majestic Saigon Hotel offers
Enquiry form